UPDATE: After the exclusive was published by Deadline, Dakota Fanning took to Instagram to clarify her character in Sweetness in the Belly, stating that her character was British and abandoned by her parents in Africa.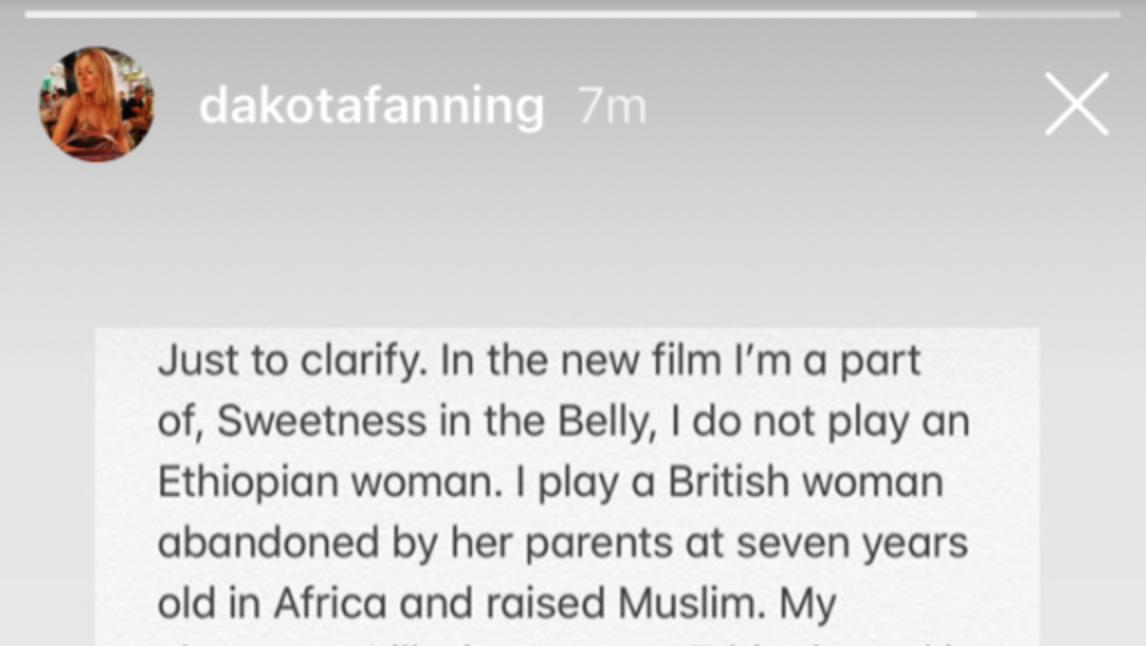 Previously reported: 
In a film set to hit the Toronto International Film Festival, Dakota Fanning will star as a white woman who is an Ethiopian Muslim refugee. The film is called Sweetness in the Belly, and it also stars Yahya Abdul-Mateen II, Wunmi Mosaku and Kunal Nayyar.
Here's the official description from the film festival:  "Adapted from Canadian author Camilla Gibb's award-winning novel, this tale of religion, politics, and love moves between Ethiopia during the final years of Haile Selassie's reign and England on the cusp of Thatcherism. After an unstable childhood spent traveling with her hippie parents, Lilly (Dakota Fanning) is abandoned in a Moroccan village, where the spiritual teachings of a Sufi master provide her with the discipline to find acceptance in the Ethiopian city where she later settles. Lilly's orderly life is turned upside down, however, when outrage over the country's gross disparities spills over into revolution. Lilly is forced to flee to London, where her status as a white Muslim woman makes her far more of a pariah than it ever did in Ethiopia, while at the same time granting her benefits withheld from Black refugees. Lilly is given a job and a small apartment, which she offers to share with fellow refugee Amina (Wunmi Mosaku), a young mother expecting her second child. Lilly also volunteers with a community association that helps refugees reconnect with family members. The work suits Lilly's innate altruism, though she has a more personal reason to access its services: she hopes to track down the idealistic doctor (Yahya Abdul-Mateen II) with whom she fell in love."
Sweetness in the Belly is not based directly on a true story. In fact, it is based on a novel by Camilla Gibb, an English-born Canadian author. The inside flap of the hardcover version of the novel calls it, "a richly imagined narrative of one woman's search for love and belonging cast against a nuanced portrait of political upheaval." The director, Zeresenay Berhane Mehari, is Ethiopian.
If you are interested in seeing a first look at the film, Deadline has an exclusive clip over on their website.
The film does not yet have a distributor.
READ MORE:
'Just Mercy' Trailer: Michael B. Jordan, Jamie Foxx And Brie Larson Star In Film On History-Making Battle For Justice
Photo: TIFF