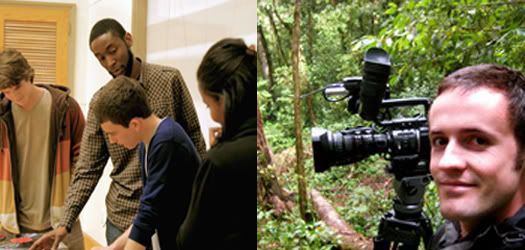 In anticipation of ActNow: New Voices in Black Cinema's NYC premiere of the 9th Wonder documentary movie THE WONDER YEAR next Thursday July 28th, a feature film series that both I and Tambay curate, I'm proud to present ActNow's blogger Tanya St. Louis' interview with the film's director Kenneth Price:
THE WONDER YEAR follows CEO, NAACP ambassador, Duke University professor, husband, father, son and GRAMMY Award winning producer 9th Wonder. The film also features special appearances from Drake, DJ Premier, Phonte, DJ Green Lantern, Murs, Young Guru, The Alchemist & more.
How did The Wonder Year documentary come to life?
I had always been a fan of 9th's music dating all the way back tills around 2003. I read about him teaching at Duke University and the idea just kinda came to me to approach him about making the film. I was a graduate student at the time and was planning my thesis film so it just worked out to make The Wonder Year my thesis project. I spent just over a year following 9th around, from December 2009 until January 2011.
What is the back-story behind the title The Wonder Year?
The Wonder Year is 'a year in the life' of Grammy Award winning producer 9th Wonder. However, its not just a chronological year, it tells his entire story from growing up in Winston-Salem, to his musical beginnings all the way until teaching at Duke University and producing for Jay-Z, Mary J. Blige, Destiny's Child, etc.
What have you learned from working with 9th Wonder?
I've learned more than I can answer in a few sentences. Probably the most important thing I've learned is that you just have to follow your passion and not over think creativity. That's been the biggest breakthrough for me over the past two years. I was able to stop trying to make "the best thing ever" and just focus on making and creating films and videos. If you're truly passionate about it, you'll make good work overtime regardless if its music, film or whatever. 9th spent years making literally thousands of beats and honing his skills to become the producer he is today.
How was it filming the scene with Phonte so soon after he and 9th just began their reconciliation?
(NOTE: 9th Wonder and Phonte, along with rapper Big Pooh, all rose to fame together in the hip-hop group Little Brother with their albums The Listening and The Minstrel Show, among other remix albums. They had a falling out years ago until late 2010.)
The Phonte interview was the last thing I filmed. I had never met him before that but it was a great experience it. We shot the interview in his home studio, we hung out for a couple of hours, talked music, played some Xbox and honestly it felt like I'd known him for a lot longer. I'm thankful and honored he wanted to be part of the film.
Why are documentary films so important? And what is your favorite documentary?
Documentary films allow us to experience the lives of others for a few hours, I can't think of another medium that allows you to gain the understanding of a subject in such a short amount of time. Favorite documentary? Hmm….Sherman's March.
Were there any challenges during filming?
The biggest challenge was being a one-man film crew. I was shooting and doing audio while trying to think about the right way to tell the story. I definitely could have used a hand in places but it also allowed me to be pretty un-intrusive in 9th's world. I think the film ultimately benefits from this one-man approach.
What advice would you give to filmmakers struggling to stay motivated?
You've just got to find a project you are passionate about and believe in. I would have quit a long time ago if I didn't believe in what 9th stands for and what he brings to the culture.
What can we look forward to seeing from you next?
I'm currently working on a short documentary as well as staying busy making music videos. You can check out my work at www.pricefilms.com
*******************************************************************************
THE WONDER YEAR. Thursday July 28th at 4:30pm, 6:50pm, 9:30
BAM Rose Cinemas, 30 Lafayette Avenue, Brooklyn, NY 11217
Tickets on sale now! Click HERE to purchase.