How to Get Away with Murder is the equivalent of a 1,000 piece jigsaw puzzle—so many parts that fit together, with the first few shapes not making much sense. But once 10 or so pieces are in place and connected, you're anxious to figure out where the other rigid parts belong. The most exciting, yet challenging part of it all is that you already saw the picture on the front of the box. How do you get there?
The picture on the front of the box in this season (or most likely, the first half of the season if it's mirroring previous patterns) is Laurel's missing baby. Is the love child of her and Wes dead? Possibly kidnapped? The end of this episode gave us a few more clues—Annalise's new court-ordered therapist, Isaac (played by the iconic Jimmy Smits) seems to know the deal with the baby—and by the looks of the bloody elevator in the classy/seedy hotel Annalise is living in, the episode may be giving us a murder as well.
The episode, "I'm Not Her," aggressively plays with time and ping-pongs back and forth from the present, where Annalise is having a therapy session with Isaac, to the not-so-distant past, that invites the audience to not only see what Annalise has been up to in the previous weeks (kicking butt and taking names as a badass lawyer, again), but also how her four former interns are dealing with life after being let go from her grip (somewhat well).
Laurel is working overtime to get as much tea on her sketchy dad, while Michaela, Asher and Conner prep for interviews to intern at new law firms. Laurel is interviewing too, but taking her father down for her baby daddy's death and simply being pregnant is way more important. By the way, if you thought the apartment she's been living in looks familiar, you're right. She's doing all her sleuthing and baby baking in Wes' old place.
Annalise's past is occupied with her taking on the case of her good sis from her time in jail, Jasmine, a 60-something (ex) prostitute. Jasmine thinks it's charity work; Annalise just wants to take on a challenge that will propel her back into being the no-nonsense, feared lawyer she once was. Sure, she wants to help because she likes Jasmine, but Annalise is a very ego-driven character. Quite often when she comes to someone's assistance she's not only fulfilled by the emotional aspect of the save, but also by the fact that she pulled off the save so masterfully. She absolutely, no doubt in my mind, lives for that single feeling.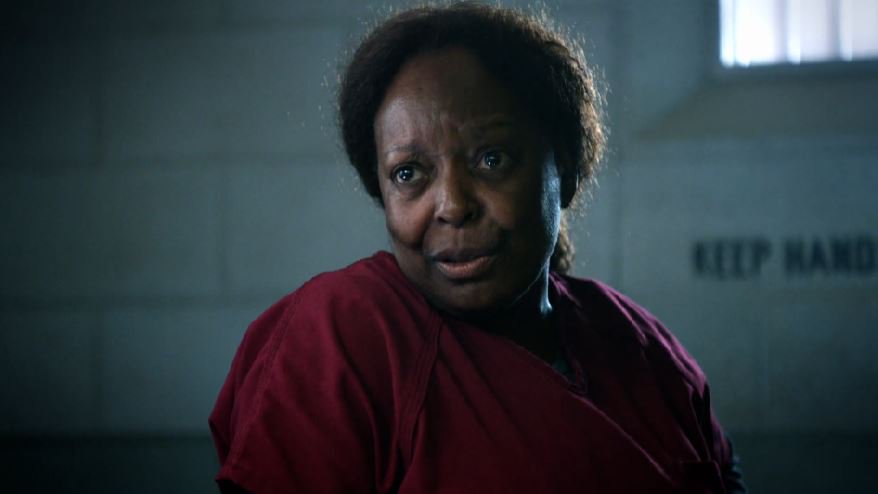 Back with the "Keating (now) Four," they all complete their grueling, ridiculous interviews from the different nosey/messy law firms, and the callback results are in:
Michaela: 5
Asher: 3
Connor: 0
Laurel: 0
Later in the episode, Connor, who said he didn't want to be a lawyer anymore, goes back to one of the law firms to try and slide his way into a callback. The scheme doesn't work, but on his way out, he hears a representative call Laurel's name—she actually received at least one callback (most likely, many more knowing her). She lied about her interview results because, for one, she's rich AF so who cares, and two, revenging Wes' death is the only result she's interested in at the moment. Attending the interview was only to distract everyone else from her real agenda.
After a flop court session for Jasmine, Annalise comes back with a fury and wins the case for her former jail-mate/good sis—with the help of a sealed file retrieved by Frank, who vows he'll always be there for Annalise. Before the win though, at the flop session, Annalise runs into Bonnie and discovers that she now works for the DA office. She was surprised, but in total Annalise fashion, didn't give a damn a few scenes later.
Finally, the "Keating Four" that actually earned callbacks, Michaela and Asher, accept offers to intern at new law firms. Michaela gets Kaplan. Laurel is thrilled to hear the news, because now she has an inside connect to take her father down. The Kaplan law firm represents Laurel's dad. Laurel tells Michaela that her padre murdered Wes and divulges her master plan to ruin him, that now involves Michaela to dig and get info (most likely, illegally) on the murderer. Michaela was hurt by the news of Wes' murder, but if she agrees to help, she is a complete fool. She finally has a clean slate. Will she be silly enough to mess that up?
Two and a half months later, we discover that Annalise is missing from her hotel housing, a bloody mess is in her hallway's elevator and Laurel's missing baby is therapist Isaac's problem, as he calls someone (assuming Annalise) in a panic when Laurel wakes up in a confused, frenzied mess.
Next week, I'm looking forward to Michaela's "yay or nay" to helping Laurel on her quest for revenge (I really pray she says "no"). I have to say that Jasmine's monologue moment, describing how and why she fell into prostitution, was beyond words (the actress L. Scott Caldwell was absolutely coming for a guest star Emmy). Also, Zaddy/Desmond from last week's episode was actually played by Viola Davis' real-life husband, Julius Tennon. That explains their perfect chemistry.